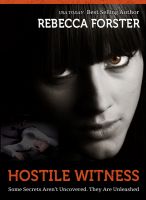 Book Title: Hostile Witness
Author: Rebecca Forster
Publisher: Smashwords; Amazon
Format Reviewed: eBook
Also Available In: Paperback and Audio Book
Published On: Oct 28, 2009
Words: Approx 106,400
Price: Free
Genre: Thriller & Suspense; Women's Fiction
Book Description taken from Smashwords.com:
When sixteen-year-old Hannah Sheraton is arrested for the murder of her stepgrandfather, a California Supreme Court justice, her distraught mother turns to once infamous defense attorney, Josie Bates. Now a small town lawyer in Hermosa Beach, Josie wants nothing to do with the case since the gruesome evidence points to Hannah's guilt. When the girl is charged as an adult, Josie can't turn her back.
My Review:
I downloaded a free copy of this book and left it sitting in my library for quite some time before I decided to read it. Once I began reading, though, I wondered why I had waited at all.
The plot–a lawyer defending a sixteen year old girl charged with murder, was intriguing, even if I correctly guessed many of the nuances of the plot line before the author shared the facts with the reader. I had to ignore quite a few grammatical/copy editing errors but find that to be the case with most books I read lately, regardless of whether the books are indie published or distributed by a large publishing company.
For the most part I stayed engaged in the story, although sometimes the main character's motivation for acting/behaving a certain way wasn't clearly defined.
The pace remained brisk throughout the book and I enjoyed the courtroom scenes, but I was disappointed by the ending, which seemed contrived. It didn't resonate as being realistic, given what I already knew of the two characters involved and their relationship with each other.
Even with the flaws I mentioned, I will definitely read the next book in Rebecca Forster's Witness Series.
My Rating:
5 Glasses of Wine